Provider Enrollment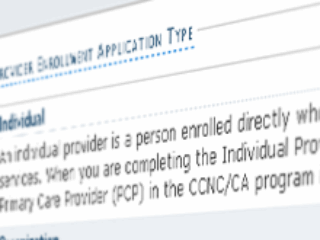 NC DHHS recognizes the need to promote access to care by enrolling all providers in a timely manner and is committed to ensuring the provision of quality care for our citizens.
Note: NC Session Law 2022-74 eliminates NC Health Choice and moves beneficiaries to Medicaid. Effective April 1, 2023, Medicaid is the only NC DHHS health plan offered by DHB. As needed, you may enroll in NCHC to cover prior dates of service, but your participation in the NCHC health plan will end effective April 1, 2023.
The enrollment process includes credentialing, endorsement, and licensure verification. The CSRA Enrollment Team completes this verification to ensure that all providers meet the professional requirements and are in good standing. Once participation as a DHHS provider has been approved, providers are notified by email and may begin submitting claims to NC DHHS for services rendered.
The CSRA Enrollment Team cannot provide special consideration for processing of enrollment applications due to provider error, incomplete information, or due to a delay in obtaining credentialing, endorsement or licensure information from another agency.
Applicants must meet all program requirements and qualifications for which they are seeking enrollment before they can be enrolled as DHHS providers. Specific qualifications for each provider type are listed in the Provider Permission Matrix.
If you have any questions regarding completion of the Provider Enrollment Online Application, please contact the CSRA Call Center by phone—800-688-6696, fax—855-710-1965, or email—NCTracksprovider@nctracks.com.
PDF documents on this page require the free Adobe Reader to view and print.